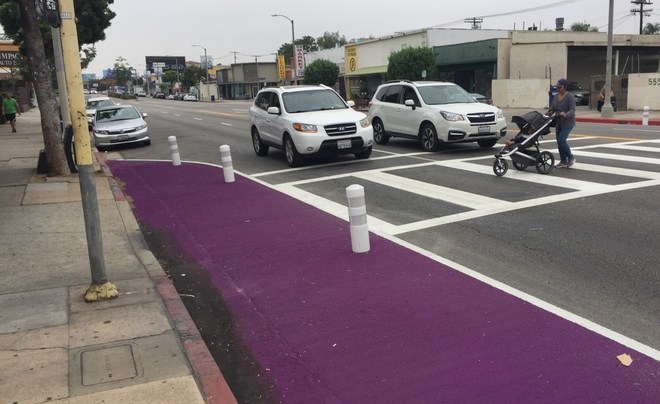 This summer, a mid-city stretch of Pico Boulevard received bright purple painted curb extensions. They are located at two Pico intersections: Hauser Boulevard and Curson Avenue.
The safety upgrades are part of Mayor Garcetti's Great Streets Initiative. The 14-block stretch of Pico from Cochran Avenue to Fairfax Avenue was City Council President Herb Wesson's designated Great Streets project. With a boost from a 2016 Great Streets challenge grant (for outreach, planning, and some implementation), the Pico Great Street Collaborative – a group of local residents and business owners – facilitated a community-driven design process to make Pico safer, more beautiful, and more walkable.
The Pico collaborative led extensive community outreach to come up with a plan they titled Destination: Pico. The collaborative is partnering with the mayor's office, the council office, LADOT, Public Works, the L.A. County Bicycle Coalition, the P.I.C.O. Neighborhood Council, and others to plan and implement improvements.