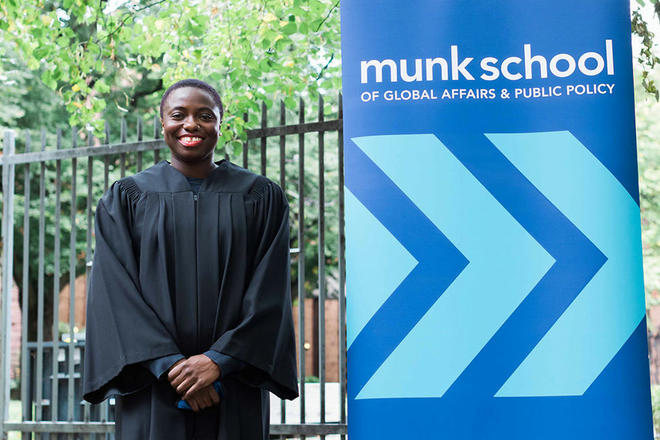 Born to Ghanaian parents, Quarcoo grew up in Kenya, Uganda and South Africa. She says her experience with the Reach Alliance offered an encouraging example of locally-led development in Africa.
"I think often when people talk about the continent, they talk about the work that international organizations are doing," she says. "They don't talk about the amount of agency that Africans have in their own development. The Reach Alliance project was even more interesting when we uncovered that. It was a great story of agency."
Quarcoo's interest in technology and social impact featured prominently in her internship with the MGA program. Through funding from a fellowship with the Open Society Internship for Rights and Governance (OSIRG), Quarcoo worked with Africa's Voices, a non-profit organization in Nairobi that finds ways to use technology to centre African citizens in Africa's development.
While at Africa's Voices, Quarcoo worked on a consultancy project with the Mastercard Foundation, looking at how to use technology to engage with program beneficiaries.
"When you think about development programs, you often think of folks sitting in offices in Geneva saying, 'Oh, we're doing all of these great things!' But the beneficiaries of these programs don't really have an opportunity to be involved or give voice to what they're experiencing," says Quarcoo. "So Africa's Voices aggregates data to give a clearer idea of what issues beneficiaries are dealing with. That allows us to measure actual impact."